GENEVA / AMMAN, 26 March 2023 – Baobabooks Education and Little Thinking Minds today announced that they are partnering to launch a creative challenge for students focused on Ramadan.
The challenge encourages children to express themselves on the topic of Ramadan and what it means to them through writing stories in Arabic and producing artwork. It is open to all native and non-native Arabic-speaking children and runs from 26 March to 22 April, after which winners will be announced.
"Our partnership with Baobabooks is a great opportunity to encourage children to reflect on the holy month of Ramadan and express what it means to them creatively," commented Rama Kayyali, Co-founder and CEO of Little Thinking Minds. "We are excited about the outcome and to share these reflections with a wider community."
Ramadan is the ninth month of the Islamic lunar calendar, observed by practicing Muslims as a month of fasting, reflection, and prayer. It commemorates the first revelation of the Quran to Muhammed and, as such, observance of the month is considered one of the five pillars of Islam.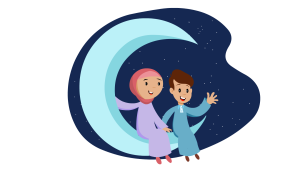 "Our goal is to partner with top-in-class organizations with shared values around supporting literacy for children as well as engaging educators to have the biggest impact," said Peter Nicholson, Baobabooks Co-founder and CEO. "Little Thinking Minds exemplifies this and we are extremely proud to be working together to broaden our engagement through this creative challenge."

Students can participate in the Ramadan creative challenge to create and submit their stories and/or their artwork through the following link: https://ltm.baobabooks.com/ramadan/
About Baobabooks Education Sàrl
Baobabooks Education is a Geneva, Switzerland-based social impact company focused on partnering with educators, parents and schools to support student writing and creativity. The award-winning platform is certified by Education Alliance Finland and facilitates independent and/or teacher-led engaging writing activities where educators can task students individually or in groups to write, illustrate and publish their own books. It also supports parents to empower their children to express themselves by writing and creating books using the fun and intuitive website.
For more information, please visit https://baobabooks.com
About Little Thinking Minds
Little Thinking Minds is an award-winning Ed-tech company focused on providing Arabic language literacy tools for K-12 students committed to improving learning outcomes, advancing skills, and increasing social and cultural connectedness. Headquartered in Jordan with offices in Saudi Arabia, UAE, and Egypt, Little Thinking Minds is a high-growth women-founded and led growth company with a mission to ensure that children have access to a better future through education. Their platforms are used by over 200K users in over 600 schools including public schools that cater to low-resource and refugee populations.
For more information, please visit https://www.littlethinkingminds.com/ar/
Contacts:
Baobabooks:
Jeremy Hartley
jeremy.hartley@baobabooks.com
Little Thinking Minds:
Zain Shabaan
zain@littlethinkingminds.com